This site is updated regularly, so dont forget to bookmark us. If you have any comments please email us, we are alwayz in for a good ol' chat over a cuppa (virtual...of course).
This site is best viewed with Netscape or Explorer.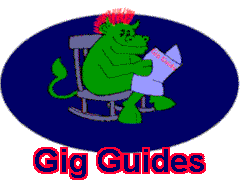 ---
"On-line gig guides"
---
Find out when your fav Australian band is hitting town, and who's playing when, and where!

Aristotle's Box All Ages Gig Guide
---
By City
---
---
Various Gig Guides
---
Copyright © YOR 1997 All Rights Reserved
Design and Development by Bite Internet Design

If you know of any Australian on-line gig guides please let us know so that we can add it to our database.